With stunning twenty-mile panoramic views down the Sound of Mull, Eagle Rock is a breathtaking home.
Eagle Rock Promo from Roderick James Architects LLP on Vimeo.
The contemporary yet understated 400m2 four bedroom house sits on a plateau at Achabeag, near Morvern, in a remote part of the West Highlands of Scotland.
Owned by architects Roderick James and Amanda Markham, Eagle Rock nestles into the landscape with sedum and lead roofs, lime-harled battered walls and an internal Douglas Fir glulam structural frame. Its unique elliptical shape takes advantage of the incredible views.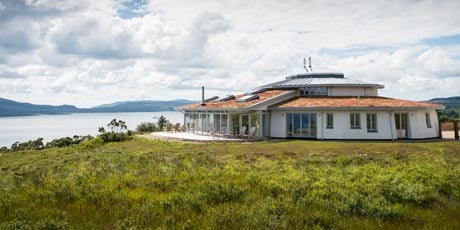 Eagle Rock was designed by Roderick, Amanda, and their partner at Roderick James Architects LLP, Mike Hope. The house was built as part of Achabeag, a new development of 21 houses.
"We were commissioned by the Ardtornish Estate to design a new development on their land," says Roderick. "We've been a key partner throughout the project, right from the planning stages. The plots were bought by individual clients, who then commissioned us to design the homes. It's been a great success, with 14 houses completed so far. It's exciting to see people move into their new homes, some relocating from other parts of the country to join this new community."
The houses at Achabeag, including Eagle Rock, have been built by local builder Macdonald Joinery Limited. "Each design is bespoke, but they all have underfloor heating, heat pumps, high levels of insulation, and light texture space," Roderick explains. "These have always been touchstones of our architectural practice and our design philosophy."

Among the homes is an affordable home prototype that was built as part of the The R-Affordable Homes project, a partnership between Roderick James Architects LLP, The Oswin Project and VELUX. The project aims to build top quality homes whilst tackling inequality and lack of opportunity. Two former offenders were given paid work on the prototype home and taught construction skills such as installing roof windows, bricklaying, plastering, carpentry and painting and decorating.
Eagle Rock was originally intended as a high end rental property. "We wanted to create a contemporary interpretation of the country house," says Roderick. "The sort of house that anyone can slip into. A lot of modern houses nowadays are so minimal that they feel rather austere and cold, but that's certainly not the case with Eagle Rock. It's got an incredibly warm textural feel to it."
Once the house took shape, there was a change of plans. "We decided that it was such a nice house that we wanted to live in it ourselves," said Roderick. "We've now been here for about three years."
Roderick says the unique elliptical shape of the house not only takes advantage of the views but also, "has a resonance with the old Scottish broch." Predominantly single storey, Eagle Rock has a high level viewing gallery around a glazed internal courtyard. Downstairs, there are four large double bedrooms with en-suite bathrooms and an open plan kitchen and living room. Two curved staircases lead up to the gallery, which provides additional accommodation as well as a cinema and library.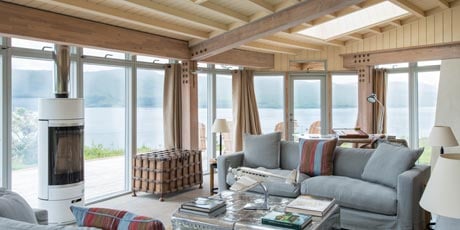 Throughout the house Roderick and his team chose products from VELUX and sister company VELFAC to help make the most of those stunning views.
"We've got triple glazing all the way around the outside of the house which was supplied by VELFAC. We have VELUX windows in the main living room area. Because we used high levels of insulation - 450 mm thick of Warmcel recycled newspaper - that means that the VELUX roof lights are situated quite high above the ceiling level. That has two huge advantages. One, it gives us light everywhere in that room. But secondly and most importantly, we don't get any glare at all. Glare can be a big problem when you're trying to get light into a room, it can be unpleasant problem in summer. That doesn't happen with VELUX. We've also got the added advantage that we can vent the room if needed, just by opening the windows and releasing all the hot air to the outside.
"We're very loyal to our suppliers," Roderick added, "When we find companies we like, we stick with them. VELUX have good customer service and are prepared to sort out problems if any problems arise."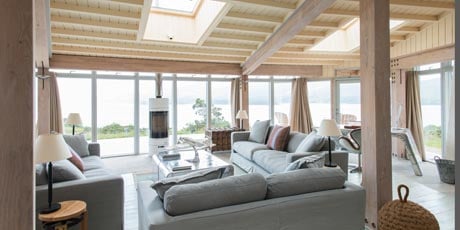 The house also has exceptional green credentials. "In terms of energy it costs virtually nothing to run," says Roderick. In addition to the 450mm Warmcel recycled newspaper insulation, the house is further heated by a wet underfloor heating system with floor pipes laid 100mm apart for maximum efficiency. A bank of 15kW pholto-voltaic panels provides virtually all of its power requirements throughout the year, supplemented by an 8kW air source heat pump, two woodstoves and off-peak electricity. The house achieves 100% on its environmental impact rating and 99% for energy efficiency.
While Eagle Rock is quite a large house, Roderick says, "it's interesting how we use every single part of it. The living room is one great spot. We've got two desks there positioned to take in the views, so it's a wonderful place to work."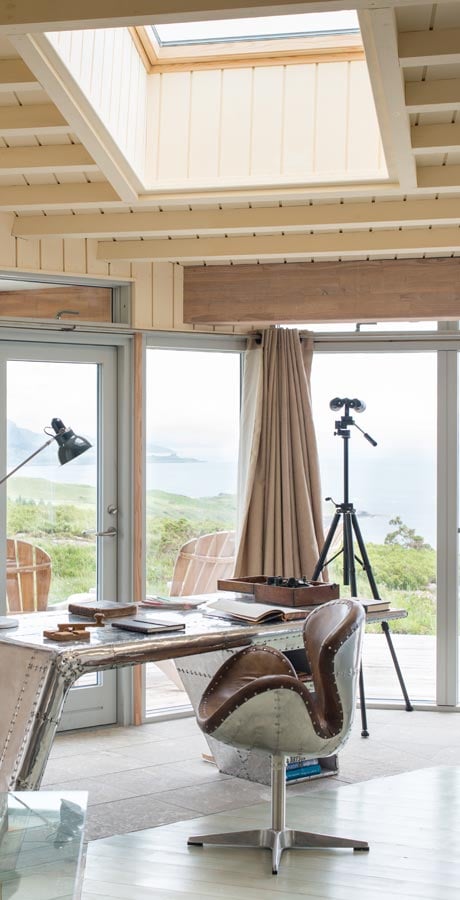 "We also use the upstairs gallery all the time, with the cinema and the library and accommodation for guests. No matter where you are in the house, you get those incredible views right down the Sound of Mull."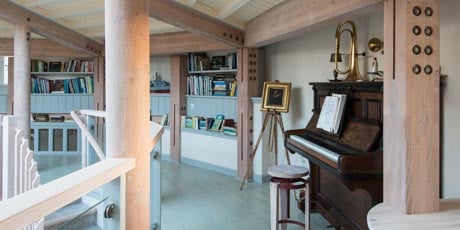 After three years at Eagle Rock, Roderick says, "It's an incredibly comfortable house to live in. I've designed a lot of houses for myself dating back to 1971 and this is by far the easiest to live in. Eagle Rock has a very warm and encompassing feel."
Find out more about Roderick James Architects at www.rjarchitects.co.uk.
Photo credits: Mark Nicholson