Case study: Freddie Rayner's VELUX Sun tunnels
The Rayner family used sun tunnels to increase natural light in the hallway of their four bedroom detached home in Northampton.
Freddie Rayner, 69, said his first floor hallway had always been starved of natural light as the space didn't have any windows and he wasn't sure what options were open to him.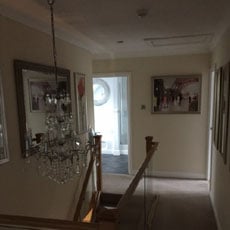 He said: "We even considered removing all the walls at the top of the stairs and replacing them with glass door and windows – but it was going to be hugely expensive."
It was only while holidaying in Spain that he stumbled upon the perfect solution. While staying in a villa on Spain's south-eastern Costa Blanca, Freddie was intrigued by a light feature in one of the rooms that he would later discover to be a sun tunnel.
As soon as the plane touched down in the UK, Freddie was on the phone to a VELUX expert to discuss the benefits of having a sun tunnel installed in the hallway above the staircase.

He was told sun tunnels bring natural light in to even the darkest spaces through a specially designed, highly-reflective tunnel that passes from roof to ceiling meaning that you won't necessarily always have to turn the
lights on.
They work best over small straight runs and the amount of light they direct into a hallway is quite remarkable.
In just 4 weeks, VELUX-recommended installers had positioned two sun tunnels directly above the staircase on the first floor of the Rayner's family home and the space was forever transformed.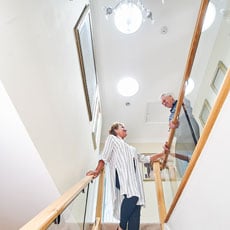 Freddie said: "The transformation is truly amazing. We've gone from relying on the reflective power of several strategically placed mirrors which we hoped would maximise the light given off by chandeliers we had to keep switched on throughout the day - to never turning on an electric light during the day again!
"The process of getting the sun tunnels installed was also seamless. From the initial conversation with the VELUX expert to liaising with the installers and then the sun tunnels actually going in – it was a painless process and total value for money. The installers, recommended to us by VELUX did such a clean job – all that was left for us to do was admire the result!

"Our only regret is not looking into the sun tunnel option sooner. There is absolutely no reason to put up with darkness when VELUX exist in this world!"
Grant Sneddon, product manager at VELUX, added: "The Rayner's project is a great example of a 'don't move, improve' scenario. You can clearly see the difference in brightness when you look at their hallway before VELUX sun tunnels were installed and after.
"Having to withstand an undesirable, dark living environment can really get a person down and this is a fantastic case for how the limitations of a property can be overcome with one simple, effective modification. A VELUX sun tunnel can be installed anywhere there is 6m or less between your roof and ceiling such as hallways, like the Rayners, kitchens, bathrooms, bedrooms, home offices – the only limit is your imagination!"