Bifold and patio doors look fantastic in an extension, and they're a great way of bringing the outside in.
They're perfectly complemented by VELUX roof windows, which can provide twice the daylight of vertical windows and doors, and create a much brighter, lighter extension.

VELUX roof windows maximise the way light moves throughout the day, and also allow more natural daylight to penetrate deeper into the existing part of your home.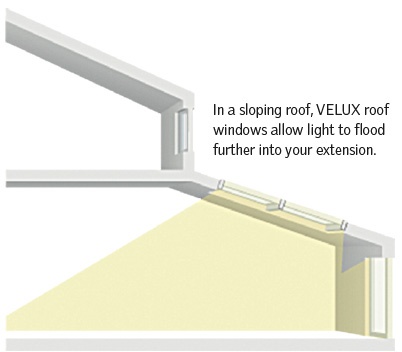 With all that extra daylight coming in through your roof, you'll have more wall space to use – perfect for extra cupboards or units if you are planning or already have a kitchen extension. And with VELUX INTEGRA® automatic roof windows, you can add more daylight and more fresh air to your extension at the touch of a button.
Together with bifold doors, VELUX roof windows make your extra space feel extra bright, extra spacious and extra inspiring.
Visit our Pinterest Inspiration Gallery to see the difference more daylight can make, and to get some ideas for your extension