As the saying goes: "the Kitchen is the heart of the Home" and if you follow me on Instagram you will probably already know how true that is for us.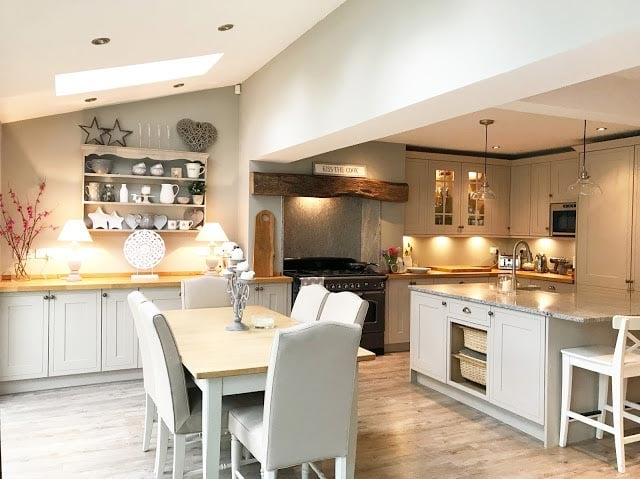 When we looked around our home for the first time it was a quick 10 minute viewing but I just knew instantly it was "the one"... When you know... YOU KNOW! The decor, layout, and style of the house weren't to our taste but it was in the perfect location. We hadn't even got a mile up the road before putting in an offer and planning our dream home!

At the top of my wishlist for the house was an open plan family kitchen, somewhere we could all be together and a place to entertain friends and family with ease. In order to achieve the space we wanted, we knocked down internal walls and a single skin, gloomy extension. We then rebuilt bigger and better. At the same time, we also added a conservatory.


While, of course, we call it "The Kitchen", it is also a playroom, it's where we snuggle up together and watch a film; It's my office and a garden room - the list could go on. Ultimately though, the kitchen is somewhere we as a family can chill out, cook (well not me, Mal does the cooking in this house - I burn toast!) entertain and eat!

The back of the house is north facing and surrounded by huge Sycamore trees which create a canopy over the garden so we needed to let in as much natural daylight as possible. Previously the Dining room (which is now the main part of our kitchen) was in the centre of the house with no natural daylight and was just depressing to be in. The original kitchen was an L shape; small and narrow. It was painted in the most hideous green and had bright yellow walls.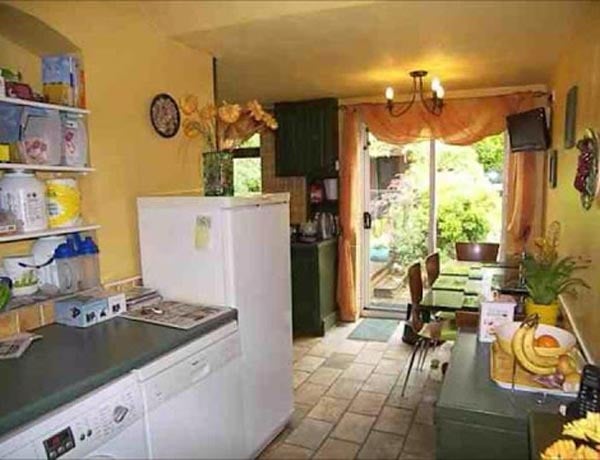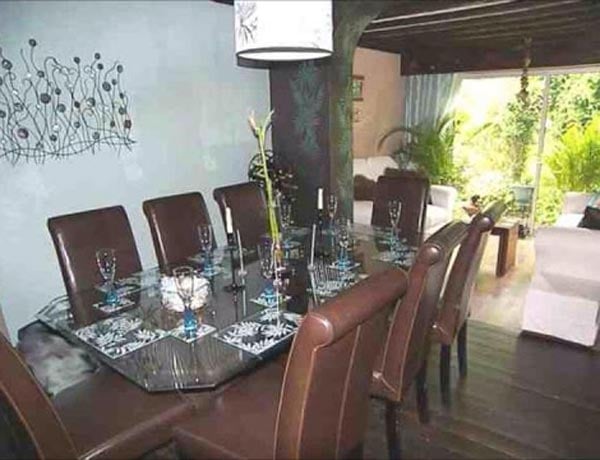 The "extension" (if you can call it that) housed a "sunroom" out onto the garden but the roof was leaking and in fact, you could lift the entire roof up with a broom handle! Sounds lovely, doesn't it!?

After tearing down the single skin extension, which let me tell you took all of about half an hour in total, we rebuilt, Bigger, Better and importantly Brighter! In order to achieve as much natural light as possible in a north facing room, we installed two VELUX roof windows into the extension as well as adding a 5m x 5m conservatory & bi-folding doors.

The VELUX roof windows above our dining area are a great addition to our space as they add so much more light to the room and create interest in the ceiling. That might sound a little bizarre, but the architecture of our ceiling is quite unique and so for us to be able to create the space we wanted, these were so important!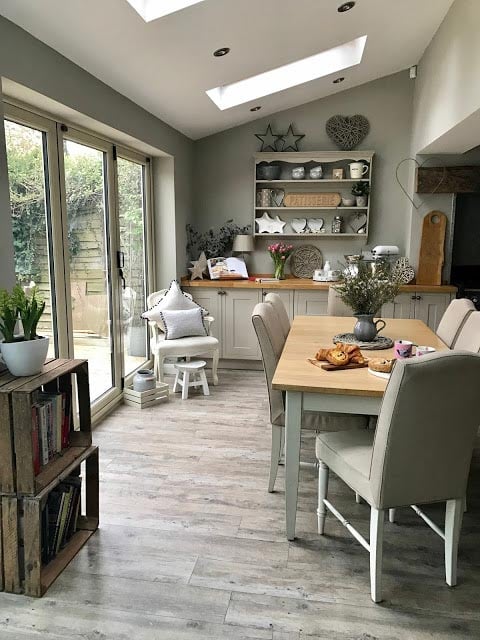 The full height of the ceiling creates the illusion of a bigger space with the absolute necessity of adding natural light. I am so pleased we added these as part of the extension as the kitchen would be so dark without them and I don't think we would love it half as much as we do.

We chose to have a pale grey shaker style kitchen with a granite worktop on the island unit and natural wood everywhere else. Although the flooring isn't "wood" we went for a hardwearing, durable and warm product with a fantastic whitewashed wood effect. This meant that the materials we used across the room were cohesive and complimented one another. I would say our kitchen is a "Modern Country" style which suits the house and its location.

We also sourced an old timber beam from a local reclamation yard to go above the cooker to help add to the country feel, creating character out of a false chimney breast. I really think that the mixture of old and new works really well. I'm so pleased with this room, we can now get the maximum benefit of the space with as much natural daylight as possible.

My top tips for anyone planning a single story extension are;

1. "Go big or go home" push it as far as you dare on the size, gardens are great but with the good old British weather a room you can use all year round is a far better use of the space than a soggy mud patch you can only sit in four days of the year.

2. Use light colours on your walls & floor, especially if like us you are north facing. Light paint bounces light into the room making it brighter. The addition of some beautiful mirrors will definitely enhance this even further.

3. Windows. As you have seen we have used as much glass as we could. Have bifold, slider or full height french doors, add windows where you can and if you are planning a single story extension, without a doubt fit some roof windows such as ours from VELUX.

4. Budget. Know your budget & stick to it. Don't get carried away adding this & that as you go along because before you know it you are twenty thousand pounds over & you have lost sight of what it was you wanted in the first place.

5. When I was in the planning stages, my biggest inspiration whilst searching VELUX Extensions was one of my favourite websites, Pinterest. You can quickly & easily find ways of creating the home of your dreams without blowing the bank. Have a look at the boards I was creating at the time to see where it all began.

I really hope you enjoyed reading & maybe even found some of it helpful.